Long Blog Post Alert (You may want to read it over a couple days.)
In response to my last blog post, [Wo]Man in the Mirror, several have asked me to share more on intimacy in marriage. So before I do, I'll make this disclaimer now: I am not a licensed marriage counselor. I have, however, been married for 22 years and have, by the grace of God, experienced a marriage union beyond my wildest dreams. I have also been a recipient of God's favor as He has, through my relationship with Derrick, given me a glimpse into eternal intimacy with Christ. And isn't this the true purpose of marriage, to serve as a training camp here on earth for what an intimate relation with Christ will be like in Heaven? Think about it. All the skills and attitudes and traits needed for a successful marriage are the very things needed to form an intimate relationship with Christ --- As I learn to submit to my husband, I'm learning to more fully surrender all to Christ. As my husband strives to show me unconditional love, he's learning more about the unconditional love of Christ. As we forgive one another, we better understand and accept God's forgiveness. As we desire and enjoy one another, we are more prone to praise and worship God without inhibition. And as we learn to fight fair and to accept one another's differences, we learn that our only recourse for a happy marriage is on our knees in prayer. Not that those who aren't married, can't and don't experience intimate relationships with Christ, because you can and do! This just happens to be my reality, my training ground and so it will be from this perspective which I share today.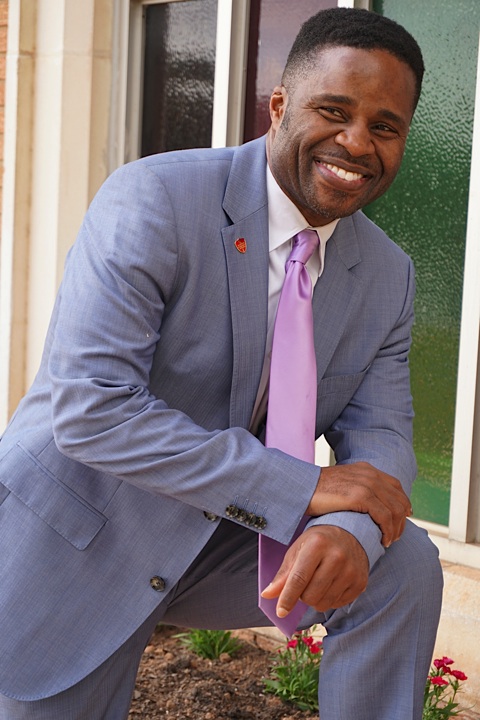 By this point, you might have the impression that all this lovey-dovey, pie in the sky, talk --- "union beyond my wildest dreams", "my marriage is a glimpse into heaven", yada yada yada --- means that marriage is easy, or that at least mine is. Some of you may just be ready to stop reading, thinking "Their marriage seems too perfect. It's not real. I can never have that. Don't even know if I want that. It's enough to make me gag." I get it, I honestly do.But you have to understand, Derrick and I are far from perfect. Our marriage has had its ups and downs, its peaks and valleys, its highs and lows. Yet, I'd do it all again 100 out of 100 times. Why? Not because we're without challenges, but because God has and is doing amazing things in our marriage and as a result, I've grown closer to God, I've experienced an intimacy with Him that I don't know that I would've experienced if I had not been married. I thought I understood what it meant to be dependent on God, to give my all to Him. But when I had to do that very thing in my marriage? Well let's just say I got a whole new understanding and appreciation for what that meant. How in the world do you submit to someone when you've done it on your own for so long? Or when you don't completely trust him to know what's best for you (or, for that matter, to care)? How do you love unconditionally when my flaws begin to irritate him beyond measure? When your passion wanes? How do you support and encourage another when you're down and out and stressed and depressed yourself? All I can say is But God! I've never prayed more earnestly, surrendered more readily, loved more passionately, trusted more completely than right now. And as I/we have made God the center of our marriage, He has blessed us exceedingly beyond all that we could imagine or hope for.
So you want a more intimate relationship with your spouse? Here are some tips from both Derrick and I as it may be good and fun for you to not only hear from me, but to also hear from the one who completes me. And my loving husband, who is the total opposite of me, will certainly help tamper down the mushy, warm and fuzzy. So here it goes:
Tips for Intimacy in Your Marriage

He Said

She Said

What Does God Say

God at the Helm

Men, we are called to be the spiritual leaders of our home. That means we have to be connected with God in such a way that we can lead out in worship and prayer and be the model for our family. We have to pray and study daily. We have to pray for our wives and children and we have to pray with our wives and children. We have to depend on God for everything. Without Him, we'll fail.

See my Daily Prayer for Submission Below – Even after 22 years of marriage, I need God's daily guidance to help me be the wife He called me to be!

I Chronicles 16:11
Ephesians 5:23
I Corinthians 11:3
I John 5:14

Communication Is Key

You have to be able to talk to one another without being concerned with how it will be taken. This enables you to feel free to share your real thoughts and comments. Women tend to be more emotional (at least Dee is) and it's hard for me to filter my words but I'm learning that if I do, she's less likely to shut down and our conversations are more meaningful.

Listening is SO IMPORTANT. Our conversations in the beginning use to be more like a competition – who could get the most words in and the one who got the last word in won. I take way more time to process and reflect and so it always seemed like Derrick won because he always got the last word. So we started a journal and we would write to each other weekly. This allowed him to say everything he wanted to say without me getting all emotional and it allowed me to read, digest, and reflect before I responded. This helped us to "listen" or to hear one another better. It worked wonders and 22 years later, it's neat to go back and read our journal and to see how far we've come.

Psalms 141:3 (YES Lord, YES)
Psalm 19:14
Proverbs 15:1
Proverbs 18:2
Proverbs 25:11
James 1:19
Ephesians 4:29
Colossians 4:6

Keep the Fire Burnin'

Passion is about getting what you value most out of the relationship and giving what the other needs simultaneously. It's the ability to do those things you both enjoy and having the time to do them together. It's about being uninhibited, willing to explore, and it's something you have to do consciously. Find 100 ways to love her. Even if it's stuff you don't like or need, think of what pleases her. I don't need roses, but she loves them, so you know what, I buy her roses and I have a bubble bath waiting for her when she returns from a trip and I surprise her with date nights and I even clean the house. You know why, because she likes it and when she's happy, I'm happier.

Passion is to desire one another, to please one another, to know what the other wants/likes and to fulfill those desires. You keep the fire burning by doing the unexpected, by putting the other person first. Passion is achieved ladies by loving yourself and feeling good about yourself. Take time to pamper yourself, to get all dolled up, to exercise, eat healthy, get rest, relax. Do whatever it takes to be the healthiest, happiest version of you and your desire for your husband will increase. And not only that, you'll experience pleasure too. Let your hair down and believe that you deserve passion and fulfillment too!

Song of Solomon
Esther 2:12
Proverbs 31
I Corinthians 7:1-5
Colossians 3:19

May the Circle Never be Broken

Your marriage is about the two of you. Period. Others don't need to know your business, friends, family, kids, doesn't matter. Whatever it is, you two and God can and should work it out.

Ditto. I know it's hard ladies because we love our girlfriends and most of us are super close to our moms. But it's time to leave and cleave.

Genesis 2:24
Proverbs 11:13
Proverbs 16:28
Proverbs 20:29
Matthew 19:5

The Perfect Date From A-Z

Anything, anytime, anywhere with my Dee.

A few date night ideas:

a) put the kids to bed early, and have candlelit dinner just you two, even if it's takeout on the china
b) a few of his/her favorite things – plan a day designed especially for your spouse doing the things he/she loves
c) have a couples' massage
d) explore the city you live in like a tourist
e) check out pay-as-you-can nights at your local theatre
f) give him/her a pedicure
g) have a game night – be as creative as you dare to be
h) relive your youth (the safe, legal version) – go to an arcade, skating or bowling, walk the mall while holding hands, talk on the phone for two hours, etc.
i) go to IHOP at midnight
j) mail your spouse a love letter
k) go to the circus or carnival
l) have a photo shoot
m) check out a poetry night
n) do karaoke
o) take a hike
p) take your lunch break together
q) go for a night swim
r) go to a concert
s) train for a race and run together for some cause
t) prepare a meal together
u) volunteer together
v) take a long walk or bike ride
x) have a movie marathon at home
y) rent an exotic car or motorcycle for the day and hit the highway
z) take a dance class together

And, did I mention taking a vacation together and do it yearly at least???

Song of Solomon
Ecclesiastes 3:13
Colossians 3:17
John 10:10
From My Heart to Yours,
Davenia
Prayer: Help Me to Submit Lord
Dear Kind and Gracious Father,
I come before you this morning because it is my desire to live in submission to my husband (Oh how it pains me to think and write that word – submission). But I've read in your word "wives submit to your husbands, as to the Lord" (Ephesians 5:22, Colossians 3:18) and while I've tried to ignore it, dismiss it, redefine it, and erase it, I keep coming back to "all scripture is given by Your divine inspiration and is profitable for doctrine, reproof, correction and instruction in righteousness (II Timothy 3:16). So, here I am seeking to understand it, accept it, and live it.
Now because You made me (fearfully and wonderfully made me by the way - Psalms 139:14), You know how hard this is going to be for me. You made me to be a woman who handles her business. You gave me leadership qualities. You gave me the ability to multi-task, to organize, to take charge, to dream and to vision, to nurture and to care for, to see a problem and generate and execute a solution. And you also see me (Genesis 16:13), so you know every experience and situation that I've endured. You know about the many broken hearts. You know about all the times others have disappointed me. You know about the times I've had no choice but to pick up the slack when others have left me alone. You know about the tragedies that have left me untrusting. You know about the lonely nights and the scary days. You know what caused me to erect this wall around my heart. You know my fears. You know me (Psalm 139:1 and 2, Psalm 139:23).
So because You created me and know me, It has to be up to You to transform me (Ezekiel 18:31). I want to be the woman You created me to be (Genesis 1:27). I want to be that wife and mother who is pleasing in Your sight (I John 3:22). I want to be a woman after Your own heart (I Samuel 13:14).
Change my mind (Romans 12:2) dear Father so that I better understand this whole submit thing. Help me no longer see it as being enslaved to my husband, being his footstool, having no say, no voice, or losing myself to him to the point that I no longer recognize myself as I become morphed into a mini him. Help me understand that as I learn to submit to my husband, it's only positioning me to be better submitted to You. Help me to understand that You also created my husband, You love Him too and You can and will equip Him to be the husband that I need. Help me to understand that I only need to obey Your Word, even if I don't always understand or like it. Change my mind so that I am able to experience joy and freedom through submission to my husband and to You.
Change my heart (Psalm 51:10) dead Father so that I desire to please my husband without feeling that my needs are neglected; so that I don't harbor bitterness or anger; so I am able to trust him or more importantly trust You; and so that I can delight in Your ways and be fulfilled as I live as You've asked me to. Help me to submit joyfully and find fulfillment in living a submitted life within my marriage and my heart.
Now here's the biggie dear Father. Please "set a guard over my mouth, Lord; keep watch over the door of my lips" (Psalm 141:3)!!!! Lord, help me to think before I speak. Help me listen more and talk less so that I can keep myself out of trouble (Psalm 21:23). Help me to speak words of encouragement (Ephesians 4:29) and to provide a soft answer in order to turn away wrath (Proverbs 15:1). Help me to recognize that my tongue is a weapon (James 3:2-10). Help me choose to use it for good instead of evil (Psalm 34:13), to use it to heal (Proverbs 12:18), and well, help me to just shut up sometimes (Proverbs 17:28).
I've been in control, or so I've thought, for so long, and the very idea of surrendering all to You is terrifying. But I coming to You in faith, albeit the faith of a mustard seed (Matthew 17:20), believing that a surrendered life to You is far more satisfying than anything this world could ever offer (Romans 12:2). In Your word You said that if I follow You and deny myself, I will be saved (Matthew 16:24-27). So today I will trust You with all my heart, knowing that my own understanding is faulty (Proverbs 3:5-6). Today I commit myself to You as a living sacrifice (Romans 12:1). Help me to be like Peter, leave everything behind to follow You (Mark 10:28). Help me to be the woman, wife and mother You created me to be and as I surrender my all to You, show me how to love, honor, and live in submission to my husband, one of Your greatest and most wonderful gifts and blessings to me.
In Your most Holy Name I pray, Amen.